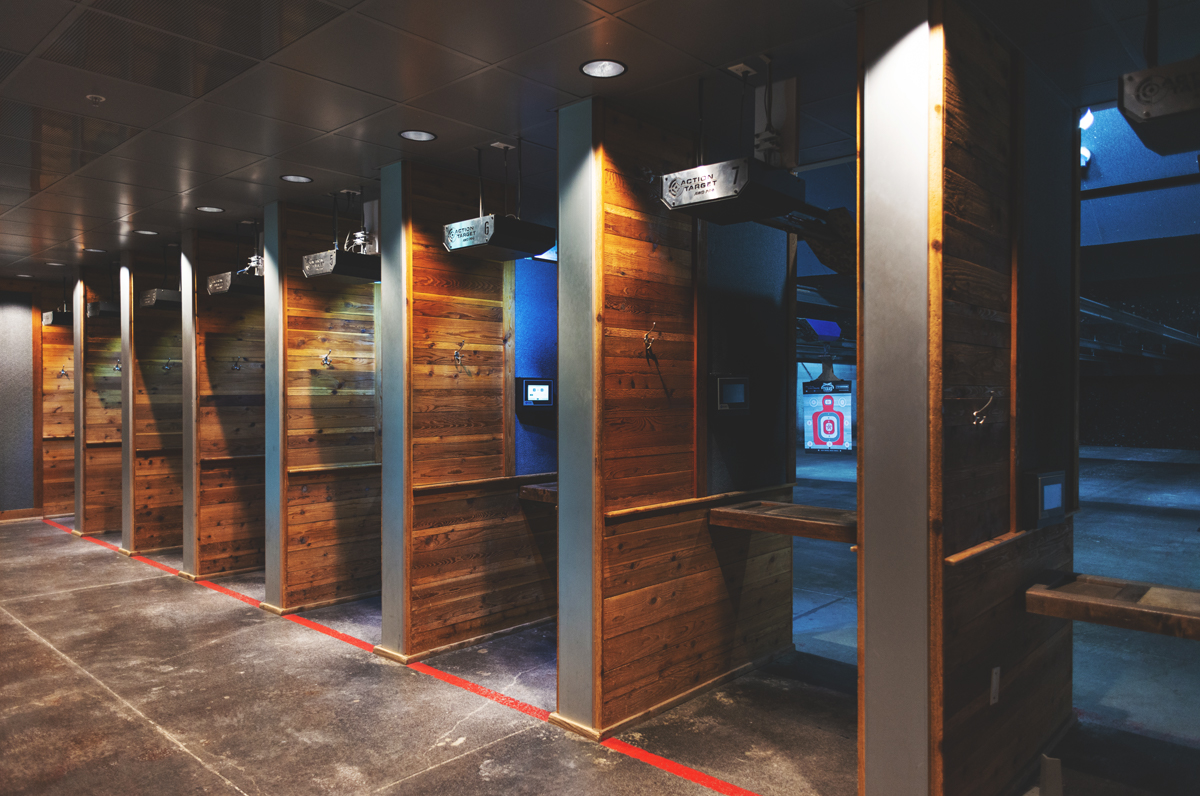 Did you know that it is safer for you to be on the range at Texas Gun Club during the coronavirus than in a hospital or operating room? So, check it out! OSHA requires the air in an operating room to be circulated or exchanged a minimum of every 15 times an hour with a minimum of three outside air exchanges.
At Texas Gun Club, we are so proud of our air filtration system on our ranges. We use a company called Rushing Air Treated Air Systems. These guys are fantastic. They have revolutionized air handling in indoor gun ranges, and it is impressive. All of the air in our ranges is 100% fresh air. It is never recirculated. It comes in down behind the shooter, and it's exhausted forward downrange. Every 15 seconds, there is brand new air in that room.
To compare, OSHA requires hospitals to have a minimum of 15 exchanges with a minimum of three outside air exchanges. Our ranges have external air exchanges every 15 seconds. That is brand-new fresh air brought into our ranges continuously.
When you crunch the numbers and do the math, Texas Gun Club has 1600X more clean air than OSHA's minimum operating room requirements. That is freaking cool!
We are really proud to have invested in this air filtration system by Rushing Air. We genuinely care about our staff, team, and guests who spend a lot of time on our ranges. Your safety and your health are important to us and worth the investment in the system.
It is super cool to us that every hour there are 240 exchanges in each of our ranges. Each of those exchanges is fresh air. Each exchange then moves away from you and down-range so that you are always shooting in fresh air. It's not something that we talk about very often, but we feel this is relevant so that you can feel safe to come out and practice shooting.
Thank you, Rushing Air, for being partners with us here at Texas Gun Club and providing a safe shooting experience for our guests.
Before I end this, here are just a few housekeeping things for you all to know. We still have an ammo ration. Supply in this
industry is really under a crunch. It is getting difficult for ammo manufacturers to manufacture ammo because of the components they are unable to hold.
So here's what we're doing. Every range customer can buy one box of ammo today. If you want to just come in and purchase a box of ammo without using the range, we are not making those sales because we need to protect sustainability during this crunch. People want to come to the range and buy a box of ammo to shoot on the range because they do not want to use up their own personal stash. We need to make sure that we are riding out and protecting sustainability through this unprecedented time.
Our current ammo ration is one box per range customer. If you want to go to the range and shoot two rounds, then take the rest of your box home, great! But we are only selling one box per range customer.
The other thing is firearms manufacturers are struggling with supply as well. If you can find a firearm that you want to purchase from somewhere, we do FFL transfers here. If you see something, jump on it! And having it delivered here because you know they are kind of like Easter Eggs right now!
Right now, Texas Gun Club is offering top dollar for used firearms. It's standard in the industry that used firearms usually get about 60% of Blue Book value. During this time, we're offering well above that so that we can help keep some supply in the store. Those of you that have a firearm to sell let us know!
Firearms training classes have been consistently booked solid. As many of you know, our mission at Texas Gun Club is to grow the shooting sports. We have a very well-developed beginner program to help you get started and work your way through to more advanced classes.
There has been a record-setting number of new firearms purchases since March of this year. We think this is great because most of those are first-time gun owners, and again, our missing is to grow the shooting sports. However, being trained and understanding how to safely, confidently, and comfortably use that firearm is a priority and also what we are genuinely passionate about.
The shooting sports are a blast when we are safe, comfortable, and confident. Educational classes are filling up fast. Check out what we have to offer at texasgunclub.com/training and get registered for a course.
That is all for this week. We hope you have an excellent rest of your week and we'll see you on the range!